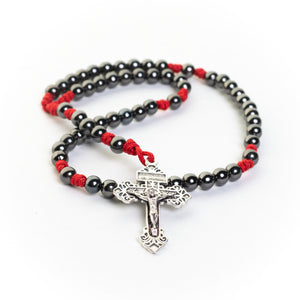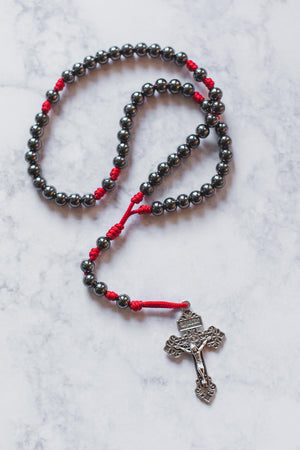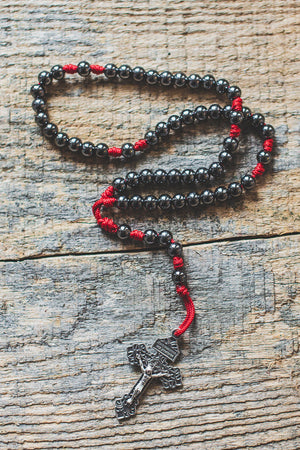 Lepanto Rosary
The Lepanto was inspired by the Battle of Lepanto, which is celebrated by the Feast of Our Lady of the Rosary on October 7th. This was a battle where, though hopelessly outnumbered, the Holy Roman Army was able to vanquish an army of Ottoman Turk invaders.
The ships that went to battle were loaded with traditional weapons, but they also had one spiritual weapon. Every man on board was given a Rosary and prayed with their brothers in arms before the battle.
Hundreds of miles away from the battle, the Pope already knew the outcome. During a conversation with some of his Cardinals, he looked out the window and saw a vision of the Blessed Virgin Mary, who showed him the victory.
The Church has over 2,000 years experience fighting for the truth. We come from a long line of warriors and you are now a part of that lineage.
Specs -
Made in America (Always Hand-made in USA)
Pardon Crucifix
Gunmetal steel beads
Red Paracord
16" Length
Hand-Stamped Carrying Pouch
Bishop Sheen Rosaries are all made to be durable. They have a lifetime warranty and are made with paracord. Our metal beads are all tough, and give a nice heft to the Rosary, while our Olive Wood beads are imported from the Holy Land. 
"This is a terrific one. Neat and tough enough to last a lifetime. If red and black are your colors, this is the best one you can ever get."  -Benton H. (May, 2021)
Sheen Rosaries' Mission
Every single sale provides funding to our partner school in Uganda. These funds are equivalent to two weeks of food for one child at Mary Seat of Wisdom. Sometimes these funds go to food, sometimes to necessary repairs, and other times to help build new school rooms.