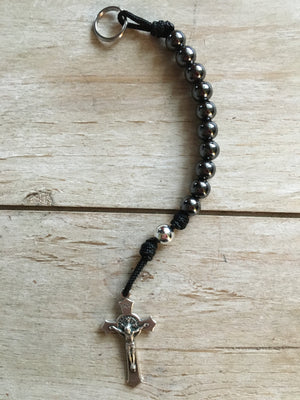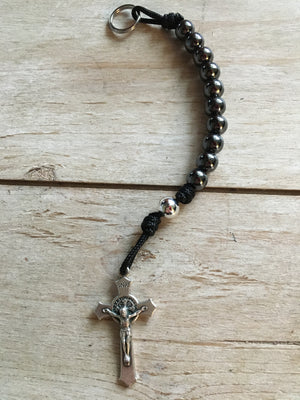 Padre Keychain
Take your prayer with you on-the-go.  This keychain has been designed based on one of our most popular Rosaries, The Padre named after Fr. Walter Ciszek, found here. This keychain is the perfect daily reminder to pray for our priests and religious.
Specs -
Made in America (Always Hand-made in USA)
Flared Benedictine Crucifix

Chrome & Silver Beads
Black Paracord
5" Length
Bishop Sheen Rosaries are all made to be durable. Keychains have a 5-year warranty and are made with paracord. Our metal beads are all tough, and giving a weighted feel to the rosary for extra heft.
Sheen Rosaries' Mission
Every single sale provides funding to our partner school in Uganda. These funds are equivalent to two weeks of food for one child at Mary Seat of Wisdom. Sometimes these funds go to food, sometimes to necessary repairs, and other times to help build new school rooms.