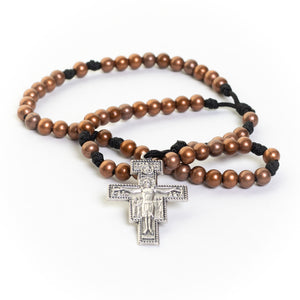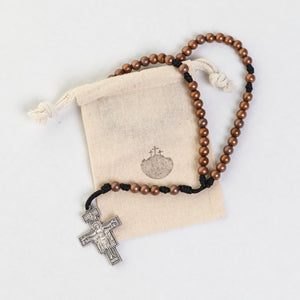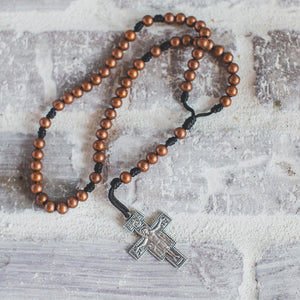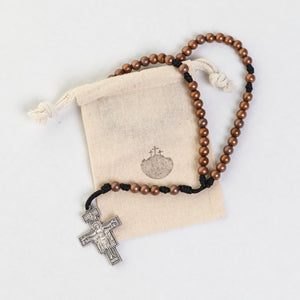 Franciscan Rosary
The inspiration for this Rosary is St Francis and the holy order of Friars he left behind. When St. Francis was preaching, the Church was in rough shape. The Byzantine Empire has all but fallen to the Turks. The heartland of the Catholic Church, Italy, was fractured by warring city states. St. Francis felt a call to repair God's Church, and he did that through extreme poverty and prayer.
St. Francis is one of the most beloved Saints in the Catholic Tradition, and for good reason - this Rosary is perfect for anyone who desires to build up devotion to this Saint!
Specs -
Made in America (Always Hand-made in USA)
San Damiano Crucifix
Copper Beads
Black Paracord
16" Length
Hand-Stamped Carrying Pouch
Bishop Sheen Rosaries are all made to be durable. They have a lifetime warranty and are made with paracord. Our metal beads are all tough, and give a nice heft to the Rosary, while our Olive Wood beads are imported from the Holy Land.
Sheen Rosaries' Mission
Every single sale provides funding to our partner school in Uganda. These funds are equivalent to two weeks of food for one child at Mary Seat of Wisdom. Sometimes these funds go to food, sometimes to necessary repairs, and other times to help build new school rooms.