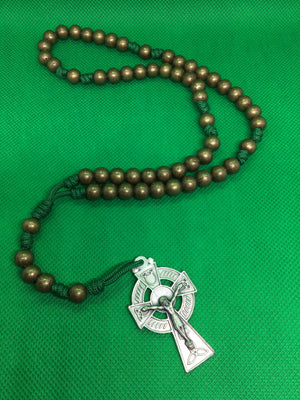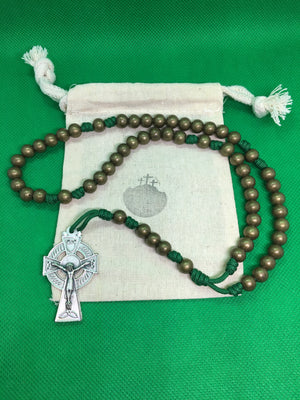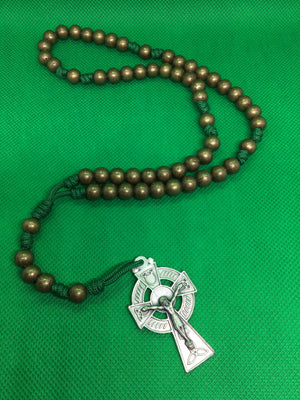 Celtic Rosary (St. Patrick's Day Limited Edition)
Bishop Sheen Rosaries' Celtic Rosary inspired by Saint Patrick and the Irish Catholic faith tradition.  St. Patrick is the patron Saint of Ireland (and Nigeria!) and is famous for his teachings and defense of the Holy Trinity.  As Patrick evangelized Ireland, so too should we pray our Rosary for the continued conversion of our world.  This Rosary may do just that!  Celebrate the Feast of Saint Patrick on March 17th.

Specs -
Made in America (Always Hand-made in USA)
Metal Celtic Crucifix
Bronze Hail Mary and Our Father beads
Kelly Green Paracord
16" Length
Hand-Stamped Carrying Pouch
Bishop Sheen Rosaries are all made to be durable. They have a lifetime warranty and are made with paracord. Our metal beads are all tough, and give a nice heft to the Rosary, while our Olive Wood beads are imported from the Holy Land.
Sheen Rosaries' Mission
Every single sale provides funding to our partner school in Uganda. These funds are equivalent to two weeks of food for one child at Mary Seat of Wisdom. Sometimes these funds go to food, sometimes to necessary repairs, and other times to help build new school rooms.