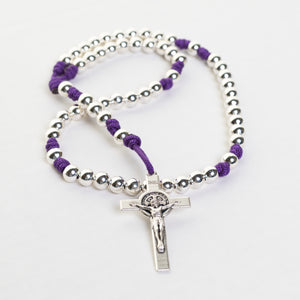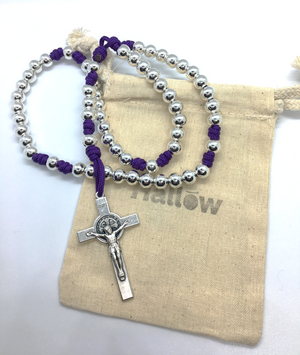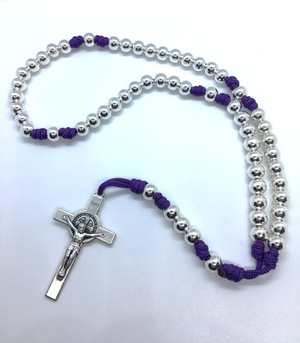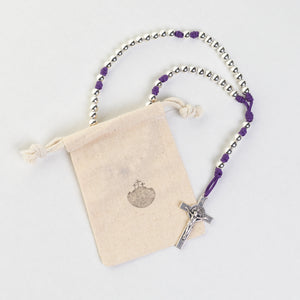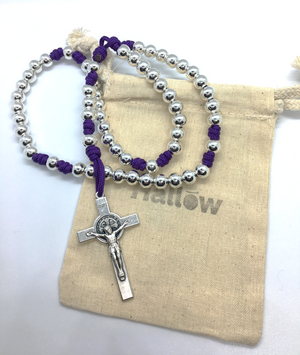 The Hallow Rosary

The Hallow 
is a one-of-a-kind Bishop Sheen Rosary designed in partnership with Hallow. Inc the #1 Catholic App worldwide.  Pick up
The Hallow
and reflect on the Royal office of Jesus and His Mother.  The purple cord should help us to recall that Jesus, the King of our lives and Mary, Queen of Heaven and Earth. 
The Hallow
Rosary is sure to inspire wonder and awe as you reflect on your Rosary.  Sheen Suggestion: download the Hallow App and pray along with the recorded Rosary tracks. 
First time users get an extended free trial with the following link.
hallow.com/bishopsheenrosary
.
This Rosary and App Go Hand-in-Hand:
"This rosary is a nice fit for saying prayers with the Hallow app. I like this purple and silver Rosary. Easy to find when I'm ready for praying with the Hallow app."  -Mary L. (May, 2021)
Specs -
Made in America (Always Hand-made in USA)
Benedictine Crucifix
Silver-Plated Hail Mary and Our Father Beads
Purple Paracord
16" Length
Hand-Stamped Carrying Pouch with Hallow Logo
Bishop Sheen Rosaries are all made to be durable. They have a lifetime warranty and are made with paracord. Our metal beads are all tough, and give a nice heft to the Rosary.
Sheen Rosaries' Mission
Every single sale provides funding to Bishop Sheen Rosaries' partner school in Uganda. These funds are equivalent to two weeks of food for one child at Mary Seat of Wisdom. Sometimes these funds go to food, sometimes to necessary repairs, and other times to help build new school rooms.