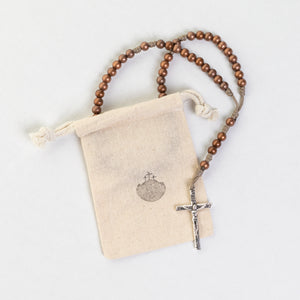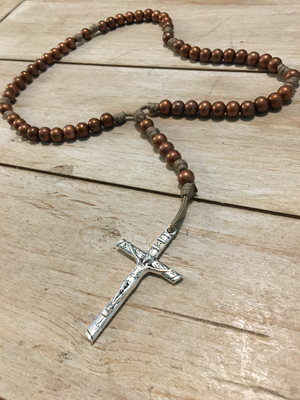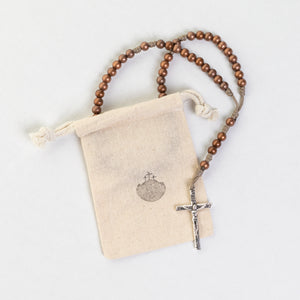 The Carpenter (Year of St. Joseph Limited Edition)
The Carpenter Rosary is designed to transport us to the house of Joseph and Mary while meditating on the Holy Mysteries.  Declared by Pope Francis from December 8th 2020 until December 8th 2021, the Year of St. Joseph should inspire all to grow closer in devotion to the Holy Family.  This Rosary is meant to do just that.  Make sure to get yours before this special memorial year is over!  Sheen Suggestion: Use this product to pray the Joyful Mysteries of the Rosary.

"In my opinion, St. Joseph would approve." -Anthony S. (March, 2021)

Specs -
Made in America (Always Hand-made in USA)
Metal Wooden Beam Crucifix
Copper Hail Mary and Our Father beads
Tan Paracord
16" Length
Hand-Stamped Carrying Pouch
Bishop Sheen Rosaries are all made to be durable. They have a lifetime warranty and are made with paracord. Our metal beads are all tough, and give a nice heft to the Rosary, while our Olive Wood beads are imported from the Holy Land.
Sheen Rosaries' Mission
Every single sale provides funding to our partner school in Uganda. These funds are equivalent to two weeks of food for one child at Mary Seat of Wisdom. Sometimes these funds go to food, sometimes to necessary repairs, and other times to help build new school rooms.